Hello Dear Witches…!
I have a father who always asks me after a good meal, if not there is a "dulcito" out there, asking for the respective dessert hahaha, and for him I came up with this Delicious Dessert, with Strawberries that is his favorite fruit, and a different pastry cream, with a touch of almond liqueur, which leaves us a contrast of very rich flavors, in addition to offering us different textures. A simple and very delicious option to offer the family and guests.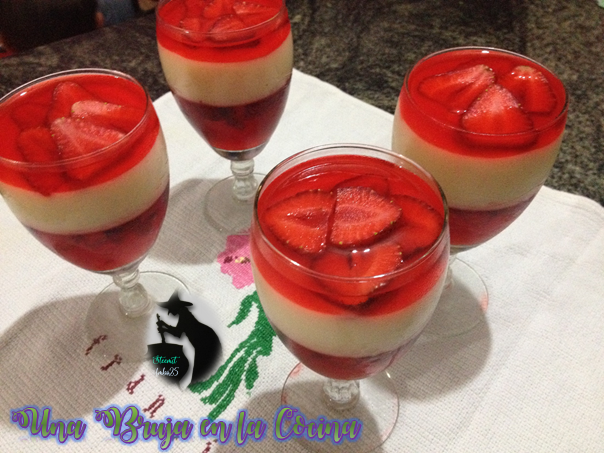 A dessert worthy of a good table of sweets, that if they wish it can turn it into dessert for children, with only eliminating or substituting the liquor of almond for vanilla or extract of almonds, because in addition to taking natural strawberries, it comes accompanied with gelatin, which turns this dessert into a favorite of the smallest ones. But enough of all this blah blah and come with me to see how to prepare this beauty. ¡Enjoy!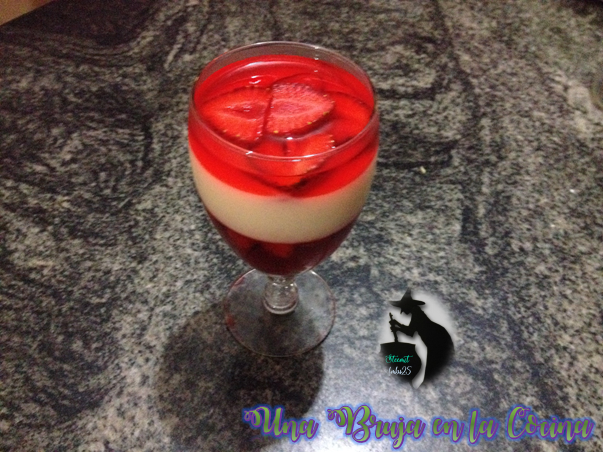 Ingredients
For Cream
1 lt of milk light
1/2 cup sugar (can be replaced by sweetener)
Medium lemon bark
1 Glass of almond liqueur
1/2 Cup wheat flour
For Gelatine
250 Gr of chopped strawberries
1 Envelope of strawberry gelatine 90 gr
600 ml boiling water
400 ml iced water
Preparation

Difficulty level: Low
Preparation Time: 10 Minutes
Baking time: 20 Minutes Cream // 15 Minutes Gelatin
Time of Total: 45 Minutes
Yield: 8 Portions
To begin Prepare the gelatine, and let it cool to room temperature, add the chopped strawberries to the container where they will serve the dessert, in this occasion use wine glasses, and fill up to half with gelatine, reserve in the fridge.
On the other hand, in a pot with enough space to cook the pastry cream, add the sugar and the wheat flour, stir and add the milk, stirring until everything integrates very well.
We continue adding the skin of half a lemon and the almond liqueur, we add the cold liqueur, so that it conserves better its flavor, and the alcohol does not evaporate completely, if we add it in hot only the flavor of the almond will remain. Mix well and take to medium heat until it thickens, this will take about 20 minutes.
We sift the cream, still hot, to remove lumps and the lemon rind, let it cool. With the gelatin already coagulated and the cold cream, we proceed to finish assembling our dessert, for which we add the pastry cream on top of the gelatin, and crown with sliced strawberries and complete with gelatin. Let it cool again and Voila!, ready our Delicious Strawberry Dessert with Pastry Cream.
This dessert of spoon, is ideal to serve in small glasses, and to offer in parties, as I commented to them at the beginning. It can also be accompanied with other fruits that make contrast, it is very rich, as well as colorful. And in my personal case, they were delighted at home, and my father was more than pleased.
Images of my property, taken with the lens of my Ipad 2, and edited in PowerPoint 2013,
Thank you for taking the time to read this publication, if you have any questions, criticisms or suggestions, please leave them in the comment box, and remember, You can also do magic in the kitchen!

You can also find me in Our Friend's Discord Chat @Repollo 
https://discordapp.com/invite/6r8ehUt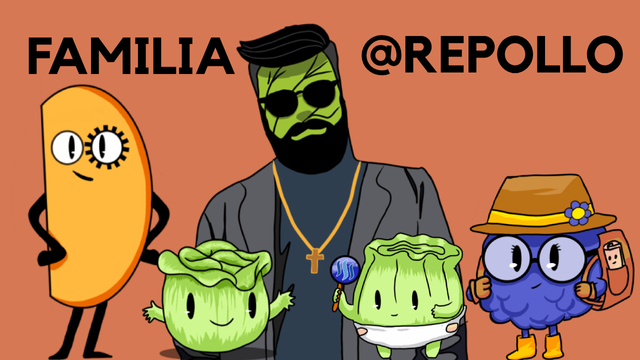 You want to find the best culinary content on the net, but don't go hungry, you must go to @Steemkitchen